8 IDEAS TO INCREASE LOYALTY
26 March 2015
2022-10-04 15:49
8 IDEAS TO INCREASE LOYALTY
8 IDEAS TO INCREASE LOYALTY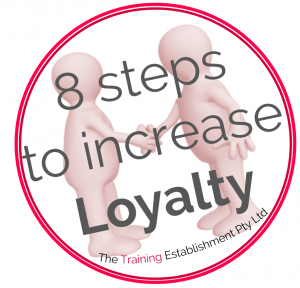 No matter what business you're in, everyone wants to earn more profitable revenue each day. Building loyal customers is the utopia or nirvana for any business. You can't buy loyalty, you have to work towards it.
Every business owner knows 80% of your business comes from 20% of your customers. On top of that, the cost of attracting a new customer is up to six or seven times higher than to maintain an existing relationships. Loyal customers are also proven to spend more money, visit more often, bring other patrons and be a vocal advocate for your business.
Whilst most businesses focus on new customers (almost to the exclusion of others), there's so much to be gained by keeping your existing customers happy. They will even complete that market penetration work for you! Today's customers are more demanding and more knowledgeable. They are expecting more from your brand and business. They've done the research on you before they step through your doors. Now that they're here, it's your job to satisfy them and exceed their expectations. Whether your venue and personal style is designed to make them feel like they're somewhere special, at home or a grab and dash concept, you need to engage your patrons.
So what are tome easy tactics we can put in place to achieve this? Here's a list of some easy ideas:
Loyalty cards
A simple coffee shop card, or the like, is more than suffice here. Make the rewards juicy enough to get people excited without costing your entire margin. The big brands have complex and expensive loyalty programs, but in essence they allow customers to earn points or stamps for spending money. Those points or stamps are used for a discount or free item. You could even use this to increase slow periods, 'double points when 2pm-4pm Tuesday to Thursday'.
I was living in Asia for a few years, one of the coffee giants had an iced drink promotion at 3.30pm (to combat three-thirty-itis) and it was the slowest time of their day. The promotion was bold, "buy one, get one free". The result was astounding, with the queues 60 people deep. The venue had to employ extra staff on for the 2 hour period. As a result the venue was pumping loud music and everyone having a fun time, all from a 50% off drink special. They sold more in those promotions during the 2 hours than they did all month in normal iced drink sales.
Socialise
Social media has really opened an entire new world of business opportunities and allow you to promote yourself to your customers (and their friends) directly in real time. By offering a promotion or discount to your followers, at times that are quiet, or promote special interest occasions this will give people an incentive to purchase from you, while providing you with a channel to directly communicate your business benefits, promotions and news. Win-win! You can then pay to promote the offer to reach a wider circle of potential customers and patrons.
Provide service worth writing about
Which is better for the customer? A 2 star hotel with amazing service, or a 5 star hotel with poor service? Sounds simple, doesn't it, but providing incredibly friendly service to your customers is extremely powerful . When customers feel valued they are more inclined to buy from you again and again, tell their friends, help to support you and the cycle continues. And if there's one thing small business owners have over the big guys, it's the ability to provide truly personalised services.
Say "thank you" like you mean it
Anyone can say "thank you". You want to say it in a way that resonates with your customer, makes them believe it and builds an emotional connection with your brand. Think back to a time when a supplier personally said thank you for your business, how did it make you feel? If you can't think about a time, imagine how you would feel if the place you visited regularly personally thanked for your ongoing business. How would it make you feel? A sign at your door saying 'Thanks for coming' isn't the same as human to human contact.
Reward your advocates
More than ever, word of mouth is the most trusted and powerful form of marketing. Encourage loyal customers to tell friends and family about your services, and reward those that result in a new customer. Be generous with your rewards and you won't regret it.  Surprise and delight marketing reinforces good behaviour, encouraging it to continue occurring.
Surprise and delight
Giving your customers what they know they want is a great way to build loyalty, but adding a 'surprise and delight' factor is a sure-fire way to take the relationship to the next level. Look for innovative ways to cut through the crowd and surprise your clients.
Random Acts
Everyone loves to support the supporter. If you perform a random act of kindness to someone, make sure you tell people about it, but in a way that is a community service, not advertisement. Promote a 'pay it forward' scheme, or community help to those in need.
Love what you do, do what you love
The passion and love for the job that patrons see within you, will bring them back time and time again. Nothing brings people more joy that to interact with some who truly loves what they're doing, it's infectious.
I'd be delighted to help you with more ideas about where else you can increase your loyalty and the types of ways you can do this in a creative forum. Come and see what else we offer, click here.
See this post feature on My Guest List, Experts in Promoting Bars, Clubs & Restaurants. click here.