5 PRACTICAL REASONS WHY YOU NEED TO PLAN OUT YOUR SALES ACTIVITIES YEARLY
14 November 2017
2022-10-04 15:48
5 PRACTICAL REASONS WHY YOU NEED TO PLAN OUT YOUR SALES ACTIVITIES YEARLY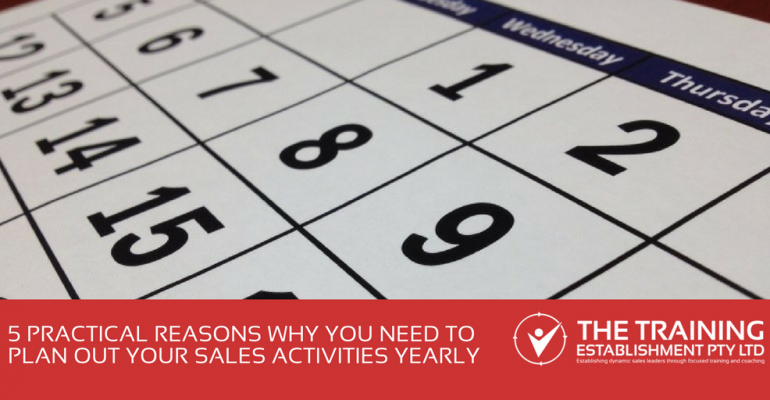 5 PRACTICAL REASONS WHY YOU NEED TO PLAN OUT YOUR SALES ACTIVITIES YEARLY
How many customers do you have? How many contacts within those companies do you have? How many trade shows do you attend? How many interstate/international sales missions do you need to participate in? Do you find yourself being reactive when it comes to planning your year and knowing where you will be, doing what and when?
What if you could organise yourself and your team to ensure you could pre-plan your year, and maximise your efforts with each customer?
Well, you'll be thrilled to know you can, and here are all the reasons why:
  Organisation of your sales team throughout the year allows you to see where everyone's time and efforts are being spent and dispersed
  Organisation of your interstate/international sales missions can be expensive but when you have a pre-planned calendar, they can be merged into one trip, or at a time that can be 'piggybacked' to share the cost with a partner in the business. Your customers will thank you for valuing their time and you're sharing the cost for a more successful event
  If at any time, senior leadership want to join an event or a sales call, they can easily see where and when in advance from your sales activity calendar. You're being proactive and displaying organisation within your department
  Your customers can easily fit into your schedule if you show them your yearly plan for when you will be there to visit. Any business partners will also fit into your schedule and you can easily anticipate these visits or trips.
  You won't spend time chasing your tail trying to work out when you'll do this, go there, be here and organise that and you've got your entire years sales activities all pre-planned out for you!
If there's only one thing that we can control in our life, it might well be our Sales Activity Calendar, so why not get yourselves organised now for the rest of this year or next year than do it on the spot every time an opportunity comes. Most can't be really sure of how to organise a yearly sales activity calendar so here's  a  copy of our Sales Activity Calendar Templates for 2017 and 2018 that you can start with.