CRAZY RANT: THIS IS WHAT HAPPENS WHEN SALESPEOPLE DO THE SAME THING OVER AND OVER AGAIN
17 November 2017
2022-10-04 15:48
CRAZY RANT: THIS IS WHAT HAPPENS WHEN SALESPEOPLE DO THE SAME THING OVER AND OVER AGAIN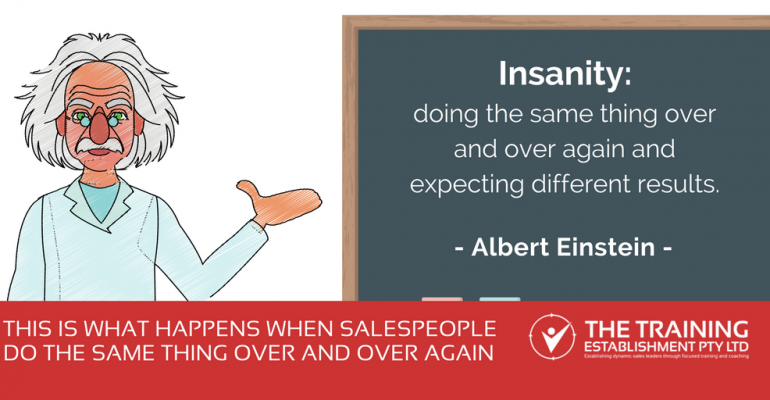 CRAZY RANT: THIS IS WHAT HAPPENS WHEN SALESPEOPLE DO THE SAME THING OVER AND OVER AGAIN
Thankfully the clients that I work with don't think like this anymore, but it drives me crazy when I meet people in business or even new clients, when I'm consulting with their team members, they complain to me that they do the same thing over and over, expecting a different outcome, but nothing changes.
They work with their customers day in and day out, week after week, month after month. They are driven mad because their customers won't work to the deadlines that are set for them. So that slows production, or delays decision or makes the salesperson's life harder. But after careful investigation, it seems that this is a reoccurring issue that the salesperson has, and without changing anything that they do, they get annoyed with their customers which then leads to an unpleasant work environment.
Now you can see what needs to be achieved here, can't you? You can see that the salesperson need to change their actions. You can see that they are doing the same old work, with the same old result. So, if you can see it, why can't they? Of course, we can all see what problems people have when we're not close and emotionally attached to the business, which is why I believe having someone who is indifferent to your business come in and assess the areas that can be changed and improved.
So, what happened to this business – yes, I do have one in mind that I'm telling this story about. Unfortunately, the salesperson couldn't see that he was the weak link in the process, so it took us some time to be able to have him identify that he was the one that needed to alter his behaviour, meet with the client and 'change the course of the ship'. The end result, a great business partnership that developed because the salesperson was able to identify new ways to work with the customer, saving time and also saving money for the customer, which and allowed them to increase their budget to work on other things (ie: bringing more money to the salespersons company and helping them to exceed their sales goals)
Afterall, if you're the same as the customer in this example – keep doing what you've been doing all the time, and you'll be guaranteed to fail, which must be what you want to do because you don't want to change!
Is your team struggling to effectively apply sales techniques? We'd love to hear more of what's keeping your team from working it out effectively. Talk to us here.