50,400 JACKPOT REASONS WHY EASILY EXCEEDING YOUR SALES GOALS IS THE BEST
11 July 2017
2022-10-04 15:48
50,400 JACKPOT REASONS WHY EASILY EXCEEDING YOUR SALES GOALS IS THE BEST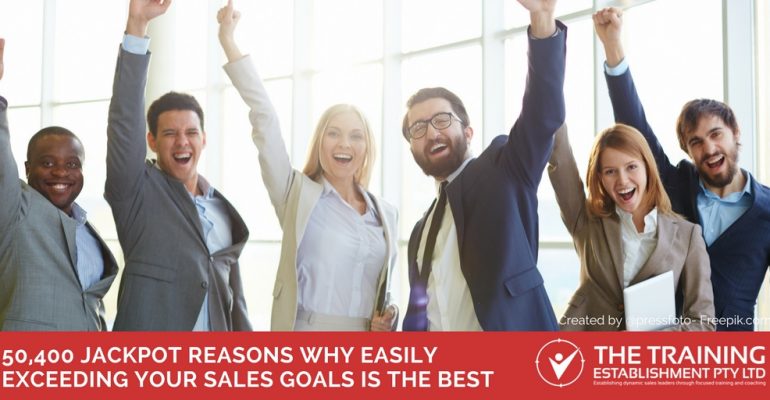 50,400 JACKPOT REASONS WHY EASILY EXCEEDING YOUR SALES GOALS IS THE BEST
Have you ever reached your sales goal for the month, quarter or year?
Do you know that feeling when all your hard work has paid off?
Let's say you reached your sales revenue goals one day early; then you have 1,440 jackpot reasons why exceeding your sales goals is the BEST! That's because there are 1,440 minutes in a day. Now, what if you exceeded your sales goals one week early, then that gives you 10,080 reasons (minutes in 1 week) why exceeding your sales goals is the BEST! Do you realise the power of exceeding your sales goals early here?
Strange as it may seem, what about if you exceeded them by the 25th of the month before your end of year. Let's say that it is 35 days early – 50,400 reasons why. Think what you could get done with 50,400 minutes. Here are just a few ideas to help you:
Organise a 'thank you client event.'
Send 'thank you' notes to all your customers
Visit each client and thank them for the business, and look at what business you can work for next year.
Take time and thank your work colleagues, for helping you to reach your goal.
Take a week off and reward yourself for a job well done.
Get a head start on the following years, Sales Activity Calendar, which means you'll start the year ahead of your competition.
Gosh, the list could keep going, but these are all great reasons why exceeding your goals early is simply the best.
When you're setting your goals for the following year, remember point 3 above, you could use these discussions to organise the goals that you'll set for your customers, and to help you to guide you in setting goals for yourself and your team. Your intellectual information on the customer and the year ahead will be more accurate than taking a stab in the dark or worse still, the same goal as this year and increase by 10%.
Have you ever been more motivated in your life to exceed your sales goals? Get cracking, time is ticking, and if you put your head down, you can achieve great things. Think of the minutes as your reward for exceeding your sales goals easily and eventually, you'll get used to winning them for yourself.
The Training Establishment helps companies, just like yours, to learn sales techniques to make them more aligned with their customers, so you can be an advocate and consultant for their business, giving you the upper hand over your competitors.