6 EASY WAYS YOU NEED TO STAY MOTIVATED ON YOUR SALES GOALS
1 November 2017
2022-10-04 15:48
6 EASY WAYS YOU NEED TO STAY MOTIVATED ON YOUR SALES GOALS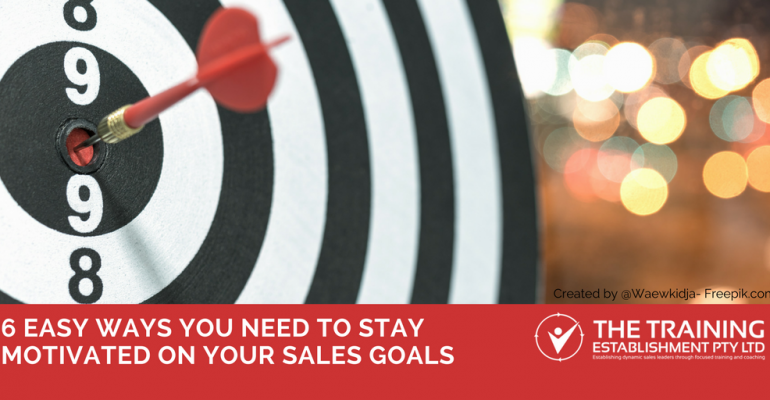 6 EASY WAYS YOU NEED TO STAY MOTIVATED ON YOUR SALES GOALS
Would you call yourself a self-motivator? Do you jump out of bed and into the day? Some people tell us they find it easy to ignore what is 'looming' and either hope for the best, hope someone else will do it, or get all frantic at the 11th hour. Since every day is a day closer to the 'deadline' you need to find ways to stay motivated throughout the year.
The best way to get started in goal-setting is:
1. Identify:
What is your goal, where do you need to 'be'
Something that you can do about it with your means at hand, i.e. taking an action that is within your level of acceptable loss. (The cost is minimal if the action doesn't work out.)
Put it this way. There are only four logical explanations why you are not moving toward your goal:
Habit. (in this case, that's "simply" a matter of getting used to taking action.)
You don't have the means at hand
Your perception is wrong (maybe you think the goal is too high, the cost is too much, the timeframe is too short)
You are lying to yourself about what you want. (This one is rarely the case.  Most people can see the end state or target.)
2. Reward yourself along the way. When you have multiple goals along the way. give yourself a pat on the back. Everyone likes a pat on the back every once in awhile. And there's no better time to get one than when you're out of your comfort zone, challenging yourself to improve, complete a task or nervous about whether you can succeed.
3. Success comes in many different forms and so does your motivation rewards.
4. Some people like to reward themselves with an 'I'm not having a coffee until this is done'. 'I'll enjoy a walk around the park at lunchtime because I won that business'. Some (not looking at our team) like a Sunday afternoon massage if they got their weekly tasks all completed. 
5. Motivation is different for everyone. Find what motivates you – you don't have to tell anyone, just make sure it's your motivation. And reward yourself for your jobs well done.
6. If you've set small goals up to help you along the way, and you work hard at them, then your motivation levels will be through the roof, because you'll be releasing endorphins to help you kicking along.
Have these easy ways be a part of your mindset and you'll be surprised how your motivation levels can gradually increase day by day that you'll stay motivated to reach your sales goals. When you reach the end of the year, make sure to look back to your accomplishments and celebrate them!