#ASKBEC: HOW TO ORGANISE A SALES EXPO?
29 July 2018
2022-10-04 15:47
#ASKBEC: HOW TO ORGANISE A SALES EXPO?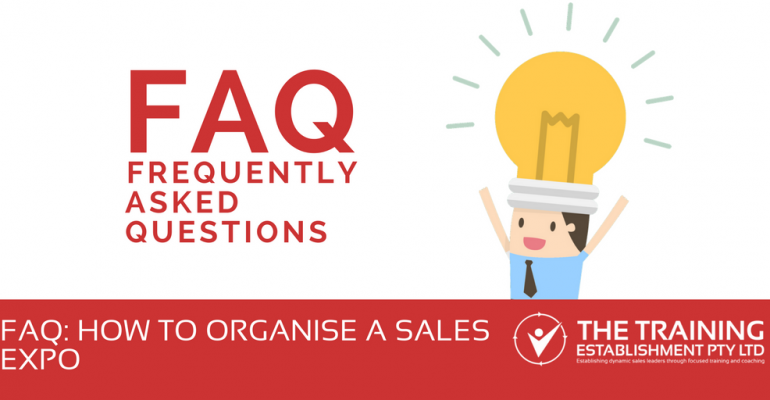 #ASKBEC: HOW TO ORGANISE A SALES EXPO?
Based on questions that our customers have asked us, please find following some FAQ's on:
What is a sales expo?
A Sales Expo by the definition in our FAQ is a mini-Trade Show where you might have a number of representing companies or brands (exhibitors) that want to showcase their products or services to a group of customers (delegates) in one central place.
How to organise a Sales Expo
In order to organise and create a successful Sales Expo there are a number of steps that need to happen, and in most cases you need to follow the plan for the organisation to help save you time and money.
Identify how many exhibitors would best work for you and your required outcomes. Is it a free flowing trade show, scheduled appointments or both?
Identify how many delegates you would expect to come to the Expo over the total period.
Solicit interest from the exhibitors explaining how the setup of the Expo would look like, who the potential customers are and offer up to 3 sets of dates that would be best available to you and ask for their preference of dates in order 1, 2 or 3.
Calculate the number of potential exhibitors and source 3 venues that can fit the requirements and get their full costings:

Cost the exhibition
Arrival Breakfast, Morning Tea, Lunch, Afternoon Tea, End of Day Drinks, Audio Visual
Availability of your required dates
Bump-in/Bump-out information etc

Identify the best venue for your requirements and place a tentative hold on the space and dates.
Cost out any other 'non-venue' related costs, name tags, emCee costing, invitations, prizes, Event Theming etc.
Work out the costings for each exhibitor for participation costs covering all the outgoings. Work out 2 costs – 1. if all those who showed interest were to come, and 2. if ½ of those who showed interest were to come.
At this time, if you're confident the Sales Expo will go ahead, you could send a 'save the date' to your customers, so they can get excited and put your date in their diary.
Solicit confirmation of exhibitors and request a pre-paid deposit to confirm their participation.
Know how many exhibitors are your optimum number. Once you're full, you're full, don't take any other exhibitors as this may be detrimental to the flow and organisation of your Sales Expo.
Once you have confirmation of all exhibitors, you can now 'advertise' the exhibitors and your event so you will now invite all of your 'A and B List' customers.
If the setup of your Sales Expo is to have set appointments, then you will need to obtain an RSVP from your clients, asking for their preference of appointments. If your Sales Expo is free flow, then you will not require a preference list of exhibitors (skip to step 18). If your Sales Expo is offering appointments and freeflow, then you will still ask for a preference list.
In this section, we will assume the Sales Expo is for some or all Set Appointment format. First in, Best Dressed. If you know you'll have one exhibitor who will be more popular than others, the first person to send their RSVP will get in an appointment to see them. (Download Appointment Schedule Template here.)
Personalise the Appointment Schedule Template for each Exhibitor so you can have a schedule for each exhibitor and each day.
Fill in the requested appointments received with the RSVP list from the delegates.
If you're also running some free-flow appointments, you might want to black out some time at the beginning of the appointment setting to ensure this exhibitor has time available for free-flow delegates.
Once all delegates RSVP's are in and all exhibitor appointment schedules are full and set, you can send the confirmed schedules to your customer and exhibitors.
Ensure full payment from the exhibitors is received at the due date. This is the time that you'll start paying the venue and theming company to finalise your booking.
Converse with the venue to ensure they have final numbers for exhibitors, setup information, break times and menu's.
Send reminder emails or invitations to customers so you minimise no-shows on the day, you don't want no-shows because the exhibitors want as many valuable customers at the Expo so they can showcase their wares.
Organise exhibitor and delegate name lanyards or badges and any brochure packs that you might want to give out to the delegates when they arrive.
Prepare all needed promotional materials for the Sales Expo and make sure all exhibitors are aligned with this. Don't forget to ask for each exhibitor's logos and other brand elements that will be included the Sales Expo's promotional materials.
What to do the day before the Sales Expo: at bump-in
Organise an 'Exhibitor Briefing' where you will give them a rundown of the organisation of their event, print out their schedules, and a contact list of all delegates.
Give all exhibitors a guide on the do's and don'ts of the event and assure to implement them for a smooth flow
What to do on the day of the Sales Expo:
Get to the venue early to ensure you're organised for the day, have plenty of business cards and ensure you're always mingling with your exhibitors and delegates.
The success of this Expo determines if it will be repeated another time or place.
Don't forget the most important step in this process, following up with each exhibitor to understand the ROI they achieved at the Expo. Did they write any business, did they get a confirmation of the next step in the sale etc.
Organising a Sales Expo is never a "no sweat" thing and there's a big list of to-do's that needed to be carefully planned and completed for the event to be a success. There's nothing more fulfilling than finding out that all your efforts of planning and preparation are worth every minute of your time when you achieve the success you desired for the Sales Expo.