@ETIQHOUR TOPIC – TURN OBJECTIONS INTO LOYAL CUSTOMERS
29 May 2017
2022-10-04 15:49
@ETIQHOUR TOPIC – TURN OBJECTIONS INTO LOYAL CUSTOMERS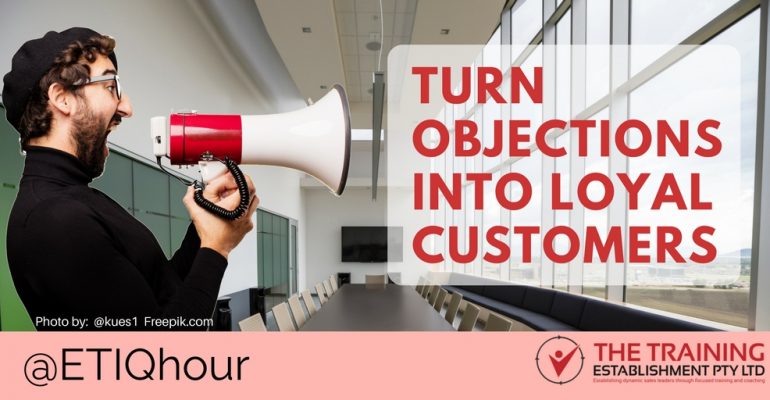 @ETIQHOUR TOPIC – TURN OBJECTIONS INTO LOYAL CUSTOMERS
Do you often get scared of objections from your customers? So much so you'd prefer to run away? In our latest discussion @ETIQhour, we explored how these objections can turn your customers into loyal advocates, "Turn objections into loyal customers."
Before I realised objections are opportunities to make happy customers, I was always frightened of them like how business owners, salespeople, and sales team would.
Think about the reasons customers give you objections. Over the years, the most common reasons our customers ask our help with is the objections are either they are not satisfied with the results of their services or the promise did not live up to their expectations. So you can see that there is quite a bit of work that could be done to lower the expectations of the customer, by delivering a realistic promise.
Are the objections that a customer gives, warranted? Can you see their 'side' of the story? It is vital to understand your customer's side of the story for you to identify your plan of action. Some business owners ignore this and end up losing their most loyal customers in the long run. The best tip I can give someone is to not have a preconceived conclusion for your customer's outcome, take the time to interact with them to further develop a deeper comprehension of their objection.
Give us some examples in the past how you've dealt with #objections in the workplace, with either an internal or external customer. For instance, has a customer ever objected that your price is too expensive than what your competitor is charging?
If this has happened to you before, how did you manage to handle it? And, if you could change one thing about how you 'handled' the last objection, what would it be? Do you think changing the way you handled it, would change the outcome?
There are ways to look at different types of objections, if it's a real complaint, show them how you'll fix it. If the objection is Scepticism, prove what is right.
Always check to ensure your customer is happy with your response. If they're not happy, ask for more details and ask more questions to make sure you understand their true objection. Following this advice is a sure way to put your customer in the forefront of your mind when handling their objections. Dealing with a customer's objection the right way, the first time will create a lifelong advocate for you and your company.
Talk to us for more details about our 1-day #Handling #Objections Training session, turn your #objections into #loyalcustomers or email us at info@thetrainingestablishment.com.au.