HOW TO AVOID THE BIGGEST MISTAKES WHEN SETTING GOALS FOR YOUR TEAMS
9 October 2017
2022-10-04 15:48
HOW TO AVOID THE BIGGEST MISTAKES WHEN SETTING GOALS FOR YOUR TEAMS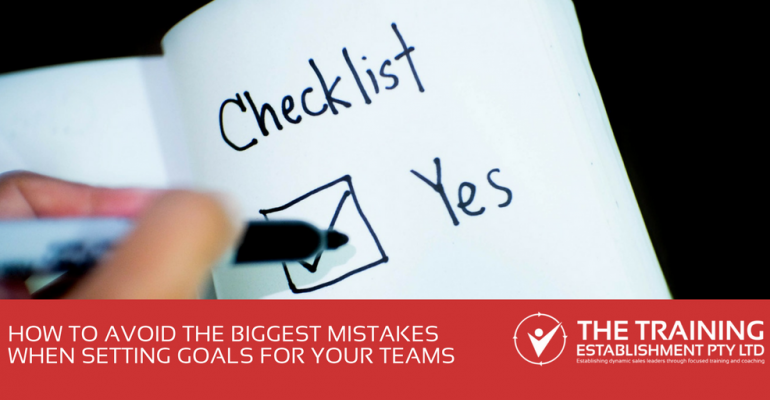 HOW TO AVOID THE BIGGEST MISTAKES WHEN SETTING GOALS FOR YOUR TEAMS
The more we interact with our customers, the more we see that salespeople have an ongoing problem when it comes to setting your sales goals. Salespeople seem to always be making mistakes with their goal-setting. So today, we felt the need to help you avoid the biggest mistakes when setting goals for you and your teams. If you're not the goal setter yourself, maybe you could share this information and blog with your manager.
 Ready your market research for the year ahead.
Thinking about the year ahead, surely you've started thinking about how next year will be different to this year – what market trends will shift, what new product will become available, or what threats might occur in our world?
Common Mistakes to Avoid in Setting Sales Goals
Let me share with you the three biggest mistakes you can make when you're setting your sales goals.
Setting goals and not identifying their next action step. You don't need an elaborate action plan for each goal. However, you do need to identify the next action step, so you can start working on this task/s and keep your motivation to finish it and move onto the next. If all you focus about is the amount of goals and action points to do without even thinking of what's the next step for each goal then you're bound to end up being consumed by the workload affecting your motivation to push through.
Creating too many goals all at once. We're all guilty of this, getting excited, setting goals frantically, only to find, down the track, these MANY goals, have completely overwhelmed you and now you don't know where to start. Our magic number is 7. If there's 7 action steps, or 7 tasks or 7 goals, they're manageable while stretching your ability. Don't get too caught up with achieving so much that you didn't have the time to think if each goal is achievable for you at one given time.
Only setting goals for one aspect of their business and career. Most people are accustomed to the idea of setting career goals. But life is far more than your job. If you are going to be happy and fulfilled, you need goals in each of the major areas of life—spiritual, physical, marital, relational, etc.
Setting goals without any regard for trusted metrics to track your progress. You keep on working to achieve those goals and although you have a good  idea of how far you'll need to go to get there, you don't really know how much are you progressing. Don't  work blindly on your goals,make sure to rely on trusted and quantifiable or qualitative metrics for you to keep track of REAL progress.