MY CUSTOMER ASKED ME HOW TO GET GREAT INFORMATION FROM THEIR CUSTOMERS
23 January 2018
2022-10-04 15:48
MY CUSTOMER ASKED ME HOW TO GET GREAT INFORMATION FROM THEIR CUSTOMERS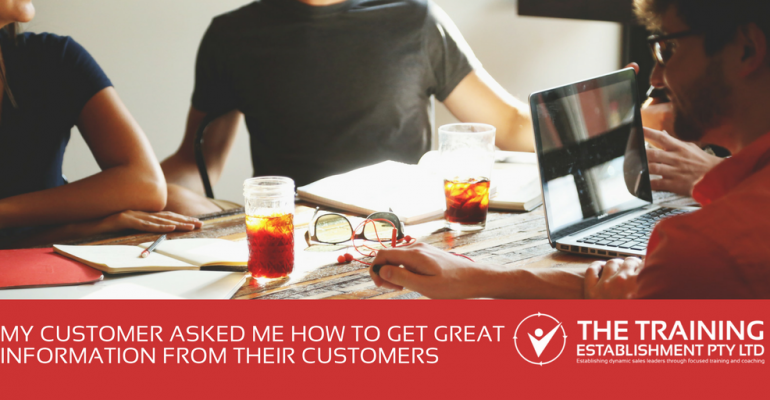 MY CUSTOMER ASKED ME HOW TO GET GREAT INFORMATION FROM THEIR CUSTOMERS
Client: "How do we get great information from our customers?"
This question is asked regularly by our clients to our team 'How do we get great information from our customers?' Some of them have exhausted their available methods of gaining information but are still left with nothing valuable they can use.
So, now is the perfect time to stop and think about it in reverse. If you were a customer, what would the salesperson need to do or say to get great information from you?
What a salesperson would do to get great information
Would it be that they need to do their research on you and your company, so you build trust and the relationship with them?
Would the salesperson need to learn how to ask you unusual and exciting questions, one that allows you to speculate, evaluate and analyse your past actions, perspective or view?
Do they need to spend time taking you out to lunch and making you feel warm and secure in the relationship?
There are many different answers for each of us because we're all different people with different needs and requirements and that's what makes us so interesting and complex as customers. We're not sure how the other person ticks. What if the salesperson was profiling you as they were talking to you, understanding how you tick and what makes you 'work', then starts communicating with you the same way that you want to be talking with? Wouldn't that quickly build rapport and trust between you both?
Now, turn the tables again, you're back in your 'sales' hat, and you want to learn how to find out this information about your own customers and how you can be more of a consultant and advocate for both businesses.
Using Personality Profiling
In the past, Personality Profiling has been used in businesses within teams and is still very successful today. However, we now have a fantastic twist on this profiling where we offer a Sales Personality Profiling; you can use this within your team or managing a project while you're profiling to understand your new and existing customers of all levels, from gatekeepers to decision makers.
Now isn't that something you'd like to hear more about? Just imagine streamlining your schedule because you get to understand your customers easily and manage to profile them as accurately as possible through Sales Personality Profiling. This leaves much of your valuable time in closing deals, doesn't it?