THE BIGGEST MISTAKES SALESPEOPLE DO WHEN THEY WANT QUALITY ANSWERS
28 November 2017
2022-10-04 15:48
THE BIGGEST MISTAKES SALESPEOPLE DO WHEN THEY WANT QUALITY ANSWERS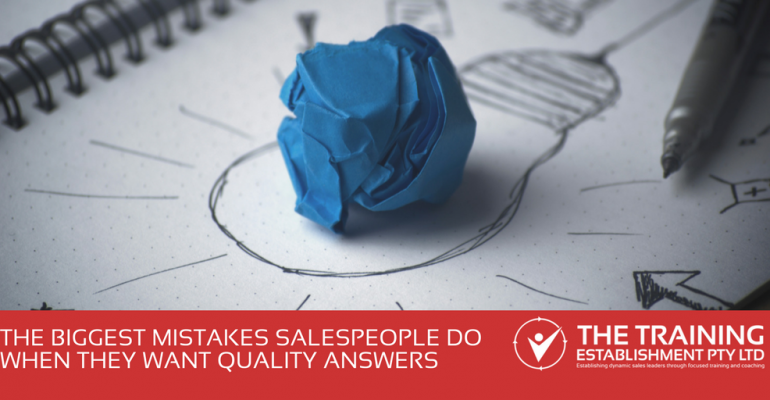 THE BIGGEST MISTAKES SALESPEOPLE DO WHEN THEY WANT QUALITY ANSWERS
If you could turn back time on your last failed sales call and redesign the way you asked those questions, so you gained quality answers, what would you do or what would you change?
What if you knew back then, what you know now, would you want to know the biggest mistakes you made when asking those questions?
Hindsight is 20/20 vision, what if you did your research before visiting the customer, then instead of learning what they did in the past, you could concentrate on how you'd make it great for their business moving forward?
You have two ears and one mouth, what if you used them in that order and listened more to what the customer was saying?
What if you understood your customers business so well that instead of asking for the business to 'seal the deal' you asked 'which option would you like to go ahead with?'
When you were faced with rejection, what if there was a way to peak their interest by delicately giving out hints at how much you
understand their challenges and maybe your offer in varied options could be their solution?
Asking questions is one way to gain great information from your customers, but why don't you talk to other customers in the same industry, so you learn more about industry trends or threats that may impact the business you're working on? You will impress your customer with this in-depth knowledge and care for their business.
Don't ask hard questions! Ask questions that are thought to provoke and will offer you quality information from your customer.
And the biggest mistake sales people do when they want quality answers are to ask dumb questions or use statements assuming they know the customer's answer.
Be sure to take note of these biggest mistakes and you'll surely avoid doing these things over again on your next sales call. Remember, a mistake repeatedly done over and over again can become a deadly habit for a salesperson.
At The Training Establishment, we specialise in establishing dynamic sales leaders by helping you to appreciate how to understand your customer. Perfecting your questioning skills so that it helps you to gain quality, outstanding information is one of these ways. Connect with us now to learn how we can help you and your team.