WHAT TO THINK ABOUT WHEN PRESENTING TO 12 VS 400 PEOPLE
22 November 2017
2022-10-04 15:48
WHAT TO THINK ABOUT WHEN PRESENTING TO 12 VS 400 PEOPLE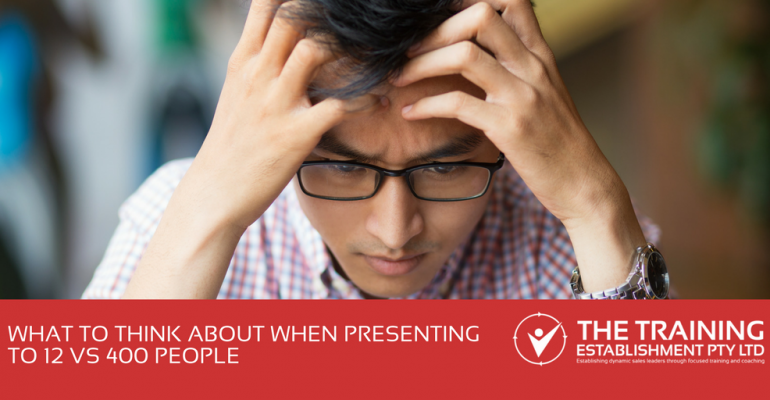 WHAT TO THINK ABOUT WHEN PRESENTING TO 12 VS 400 PEOPLE
There are some things that you can remember to do when you're giving presentations to any size group which will make you look and feel confident.
However, some of the things to think about when presenting to 12 vs. 400 people can contribute to making your presentation memorable for all the right reasons.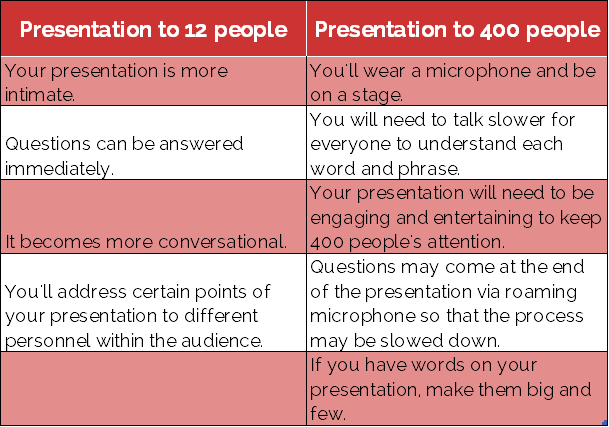 These are just a few things to consider. Aside from the size of the crowd, there could be a lot of factors that need further explanation to effectively carry a presentation but that would be a different topic of discussion for us to tackle on our next blog.
The Training Establishment has a solid record in providing Presentation Skills workshops for your teams to cope with all the challenges that they face within presentation skills. Do one or two of your team members have trouble presenting? Click the button below and we'll take you through on how we can help!