WHAT'S SCARIER? PASSIVE OR AGGRESSIVE CUSTOMERS?
27 June 2018
2022-10-04 15:47
WHAT'S SCARIER? PASSIVE OR AGGRESSIVE CUSTOMERS?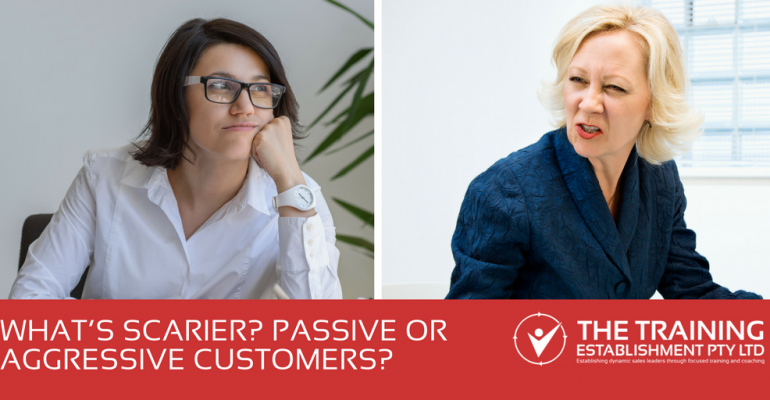 WHAT'S SCARIER? PASSIVE OR AGGRESSIVE CUSTOMERS?
The Value of Your Repeat Customers
Showing your Customers the 'Love' should be part of your annual Sales Activity plan. Research shows that 80% of your business comes from 20% of your repeat customers. This means that you should be taking great care of your Top 20% repeat customers because the business that they give you is more than the rest of your clients, combined.
Now that we understand the importance of your customers and their value to your company, it's time to show how much they mean to you and thank them for their business.
12 Steps to do a Customer Appreciation Event
Follow this step-by-step Customer Appreciation formula to help you to organise a great event to thank your clients, and show them your appreciation for their past business (and future business) with you:
Step 1: Identify who is the highest revenue generating clients. Create an "A List" and put these customers in this group.
Step 2: Identify who would be on your 'B List', those who give you a good amount of business. They're not your top revenue generators, but when you look at what business you get from their 'share of wallet' you can see that you're getting the majority of this loyalty.
Step 3: Work out how much budget you have to spend on an appreciation event. Think about if you do these only once a year, or every month/quarter, etc. But you'll also need to work out what will be your ROI (return on investment). For example: If your annual sales from your clientele base are $4,500,000 ($4.5M) and you wanted to spend $45,000, that would be a. A great event and b. A terrific return on investment. Think of it this way – if you had to spend $45,000 to earn $4.5M, would you?
Step 4: Work out the type of event you want to do. Is it summer themed, is it something to represent your brand/s, is it a destination event, etc. Is it a dinner, a party, breakfast, dinner followed by front row tickets to a show, etc.? Once you've worked this out, you can then choose a venue to hold your event at.
Don't forget to identify how many people, including representatives from your company, who will attend the event.
Step 5: Send out a 'Save the Date' to your A List, and internal representatives. This way everyone will know to keep that time available. If you find anyone from your A List tells you that they can't come, then start sending the 'Save the Date' to your replacement 'B LIst' people. Your 'Save the Date' should represent (but not give away any secrets) the event that you'll be doing. For example, send a physical card or email with an image that is indicative of your event: if it's breakfast on the beach, have an image of a steaming coffee on the water's edge. Something to make your guests interested, but not 'blow it'.
Step 6: Start planning the running of the event. Any formalities and speeches, who will meet & greet, will people sit in pre-allocated seats or not, anyone requiring dietary requirements, will people need transport, etc.
Step 7: Send out physical invitations in the mail. For an event of this cost, you'll want people to understand that you're investing real money into showing how appreciated you are. Follow up your invitation with a branded (like the invitation) email, so you can double check that the invitation made it to them.
Step 8: RSVP date should be determined by the venue. If they ask for the 'final numbers' to be on x date, then make your RSVP date one week before that. People will always respond late, so this gives you time to follow up with them.
Step 9: Ensure you send 'confirmation' emails for attendance to the event. Once you've received their RSVP, you can send some preliminary details about the dress, parking, dietary requirements, etc. in an email confirmation. You might even want to attach a calendar request to the email, so the event goes into the client's calendar.
Step 10: Finalise all the details for the venue, transport, restaurants and send out a 'looking forward to seeing you soon' email. If you're doing an event where you can send out some 'teaser' emails or mail items, this will add to the drama and suspense of the event.
Step 11: On the day it's time to run your function, make sure everything runs smoothly and you should set up a run sheet of what happens when. Ensure any speakers are all set up and ready to go, test out any Audio Visual, if you need it, and most importantly, arrive early to make sure everything is ready for the first people to come.
Step 12: Of course, after the event, send a 'Thank You for Joining Us' email or card, and follow up on any potential business you spoke about to anyone specific during the event.
Showing appreciation to your customers is the best way of showing them how much you appreciate them, after all – who pays your company's bills and your wages?
If you're interested in finding out more about how you can create your Annual Sales Activity Plan, please click 'here' to read our blog and download your copy of the planner. We can also recommend some companies who can help you to run and host these events, please click here' to complete the information and we would be happy to share our network.