#ASKBEC: HOW DO I GO ABOUT ORGANISING A PERSONALISED TRAINING PROGRAMME FOR MY TEAM?
3 July 2018
2022-10-04 15:47
#ASKBEC: HOW DO I GO ABOUT ORGANISING A PERSONALISED TRAINING PROGRAMME FOR MY TEAM?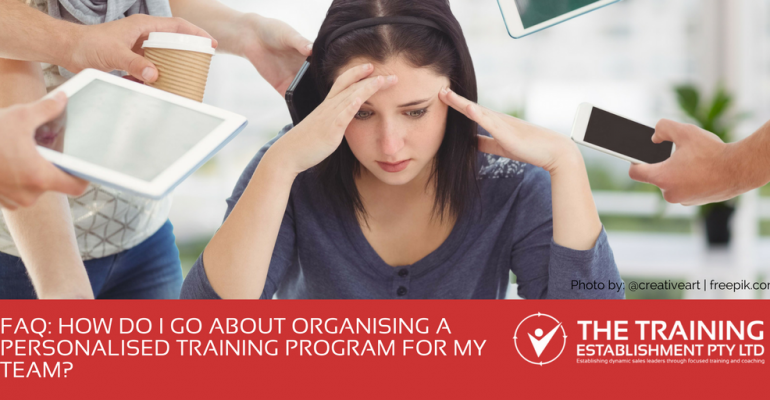 #ASKBEC: HOW DO I GO ABOUT ORGANISING A PERSONALISED TRAINING PROGRAMME FOR MY TEAM?
Based on questions that our customers have asked us, please find following some FAQ's on:
How do I go about organising a personalised training programme for my team?
Have you ever contacted a training company and talked through your needs and requirements for training, only to have them tell you the courses that they offer and how you must fit into their box? We understand how frustrating and how impersonal that is, which is why we pride ourselves in offering you a personalised training solution. At The Training Establishment, we offer programmes which are suited to most customers, but no two companies are the same, and no two problems are the same. Therefore, no two training programmes can be the same. .Your company, its gaps, needs and requirements are unique, and so should your training programmes. Below are some FAQ's (Frequently Asked Questions) that will help to guide you in the process of organising a personalised training solution for you and your team.
Identify the 'need' areas that you want the training to cover. Would you like your team to develop specific skills or learn a new technique/method in handling your customers? Is your team failing to reach your mini-goals? These are just a few questions you can introspect to see which areas your team needs training.
Contact us for a FREE 30-minute phone consultation so we can get a high-level idea of what you're needing. We're always happy to hear what current challenges every team in the industry is facing and with our proven track record of build teams to be their best version, we can further help you get a picture of what specific solutions your team needs according to your requirements.
If appropriate for us to assist you, we would organise a time for a proper one-on-one session to fully understand the needs and requirements of your proposed personalised training program.
The Training Establishment will go away and work out a Training Plan to help cover the needs. These may not be all covered in one training programme but could be a series of personalised training sessions. We value each of our customers' specific requirements and we dedicate our passion in crafting the right training plan for you.
Based on the Training Plan, we could organise another discussion to talk through any questions, comments, concerns and any gaps that may be missing or have come up since our initial review. We always welcome additional input that you think could better redevelop the proposed training plan and generate the best results from the training sessions. As much as we've been working with different teams, you're the best person to deeply understand what you need and we're here to offer our advice on how we can go on about them.
If it's needed, we will amend our Training Plan for you. Otherwise, it's time to lock it all in.
When you think about it, you'll be surprised to know that there are only 6 easy steps to get a personalised training programme for your team. It's not much of hassle given the outcomes it offers to the team and to your business overall. If you have been holding your own training programme for years and not getting the results you wanted then now's the time to reconsider hiring a professional trainer to design a personalised training programme for you.
We're always happy to hear directly what challenges you are having with your teams and how we can build solutions for you. Talk to us for a FREE 30-minute consultation here: