GREAT PRESENTATION TOOLS TO MAKE YOU STAND OUT
14 December 2017
2022-10-04 15:48
GREAT PRESENTATION TOOLS TO MAKE YOU STAND OUT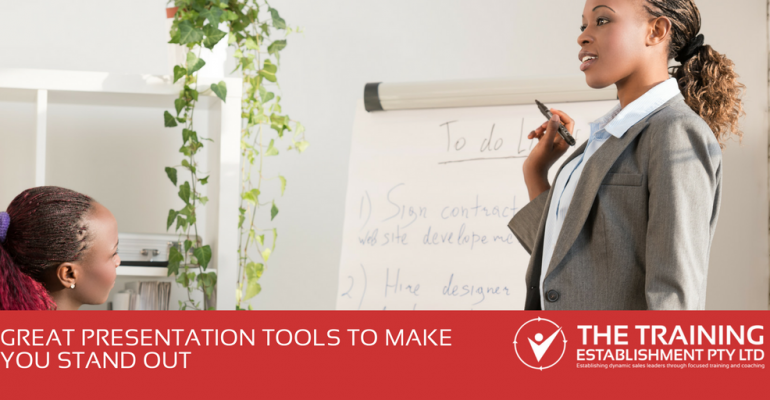 GREAT PRESENTATION TOOLS TO MAKE YOU STAND OUT
Presentation is vital to your sales success.
In today's competitive market, standing out above your competition is paramount and vital to your success. However, if you've read any of our blogs, you'll know how much we stress that understanding your customer is the key to a fruitful and profitable relationship. So, once you're at the Presentation stage of your sale, you need to ensure you are presenting the right product for their needs, and sometimes, having tools for the presentation can help you to express your desired product in the most effective delivery.
Presentation tools have been around for centuries.
In days gone by, the tools have kept up-to-date with the latest trends. In 15,000 BC they've found Cave Paintings to identify the earliest exhibits of presentations. In 1350 the design of the Bar Graph was born and so was the blackboard in 1653. The biggest thing in 1950 was a Slide Projector which allowed images to project onto a screen, and only five years before that, the Overhead Projector was invented, and used until fairly recent times.
In 1987, PowerPoint was born, thanks to Mr. Gates, and please don't take this the wrong way as there are great things that can be done these days on Powerpoint. Now there are new players in this market and here's just a handful of tools that can help you take your presentation to the next level for your customers.
Canva
Other than creating powerful social media graphics and printed materials, Canva is also an online presentation software that allows you to craft stunning slides to help you come up with engaging presentations. The best thing is, Canva has a wide array of free slide templates that anyone can use for their presentations.
Prezi
Prezi helps non-designers to design beautiful presentations, through free-flowing movement and navigation during the presentation, making your presentation more conversational and inclusive for the customer. Specifically, this tool makes use of the pan-zoom feature allowing the presenter to highlight the key ideas and guiding the audience to focus on these ideas. Prezi can be accessed either on your desktop or browser and allows you to download your presentation and play it on Mac or Windows.
Haiku Deck
Haiku Deck helps you to make beautiful presentations by using amazing images to help you get your point across. The slides made thru this tool relies heavily on the eye-catching photos used and users are given the customisation to input text, edit it, and place it accordingly that they deem suitable on the photo. If you're someone with no graphic design background but has an eye for aesthetic photos along with text, then this tool might be perfect for you. Afterall, a picture paints a thousand words!
Custom Show
Custom Show allows you to give more oomph in your presentation, using video content rather than plain text and images. The tool boasts of hundreds of video style transitions that enhance the overall impact of each slide. The performance will enhance what the salesperson is saying, rather than being the focal point.
There isn't one clear solution for each presentation you give because your customers are all different and their needs are all different, and so should your presentations be. Just keep in mind that these tools are not the one-time solution to gain your customers' trust, but rather they're crucial factors that will help you land a good overall impression. No matter what you choose, find the solution that will enhance your performance, praise your product and be of benefit to your customer.